CSM Legal Agreements Application
Integrated CSM Legal Agreements Application for IRISS Users
Coming this fall, CSM Legal Agreements can be requested through IRISS, replacing the current SharePoint form.
This new process will be accessable from the same workspace as other IRISS integrations including ethics reviews, operational requests, and Animal Care. 
The integrated CSM Legal application allows:
Visibility into the current state of your application
The ability to save, edit, and continue the application at any point
Communication directly with the CSM Legal team through IRISS
Automatic data sync daily to exchange relevant data between IRISS systems over the life of a project
Guides
The pdf Researcher User Guide will offer simple instructions for accessing and using the module.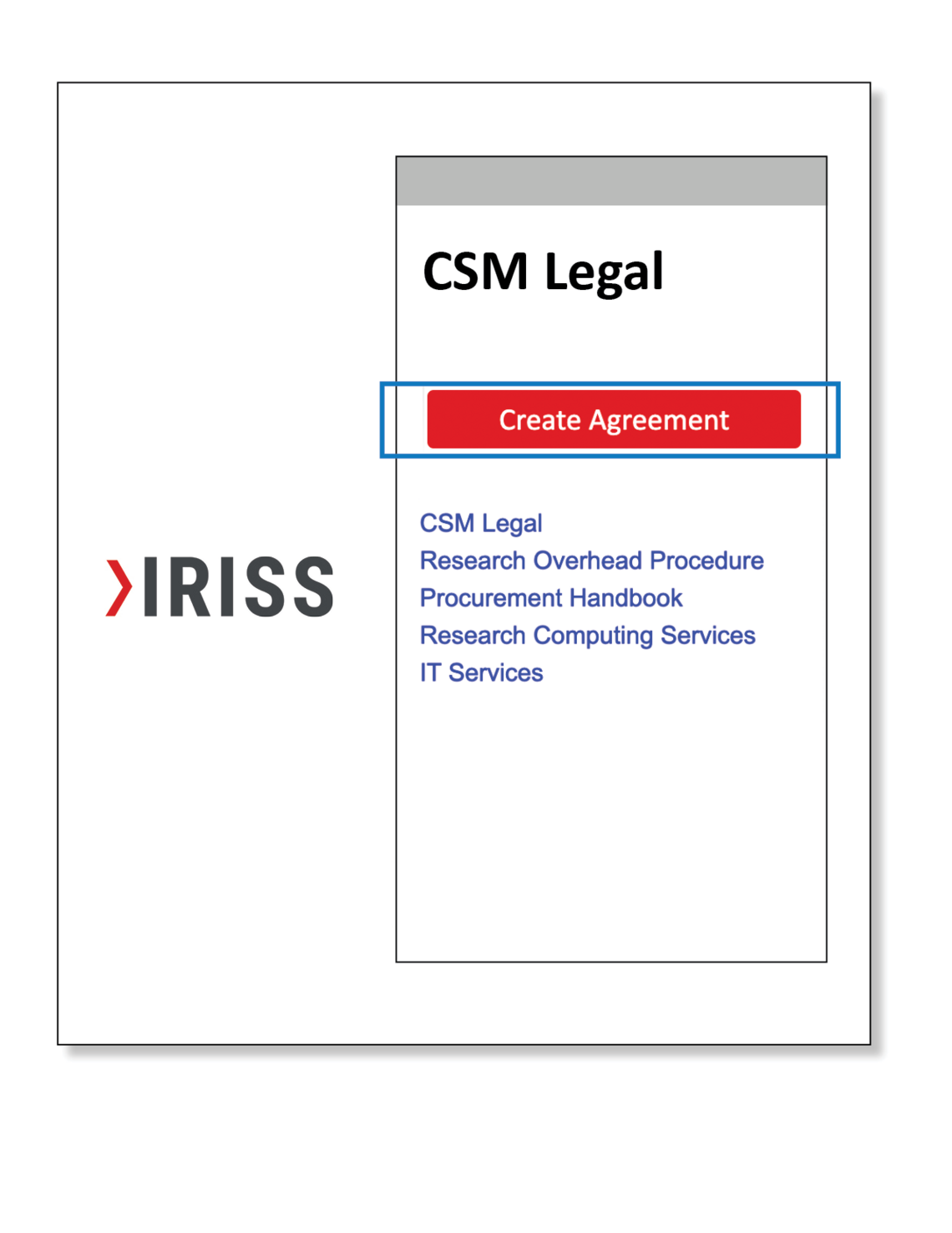 How do I access the CSM Legal Agreements in IRISS?
GET AN IRISS ACCOUNT
Once launched, all agreements requiring CSM legal review or a signature must be submitted through IRISS. Users are required to have an active IRISS account. Please refer to the IRISS information page for full instructions on how to obtain an IRISS account and log in.
ACCESS THE MODULE
The CSM Legal workspace can be found using the CSM Legal tab at the top of your IRISS dashboard. 
FILL OUT
From the CSM Legal tab in IRISS, begin your application by clicking the "Create Agreement" button. This will activate the SmartForm and guide you through a series of questions to ensure your application is complete. Relevant documents can be uploaded through this SmartForm. Once complete, submit.
TRACK
The state of an application will always be current and visible in your CSM Legal workspace. All communication and notifications between the study team and the CSM Legal team will appear in IRISS for reference and future archiving.
Frequently Asked Questions
Access
How to access the CSM Legal workspace in IRISS
Only users with a valid and active UCID can access the CSM Legal Module within IRISS.
Please refer to the IRISS webpage for more information on how to register for a UCID and IRISS account.
IRISS performs a data sync once a day.
Once you get notification of an active account, be sure to wait until the next day before attempting to log in.
If you still can't access, reach out to the IRISS helpdesk. 
After logging in to the main IRISS dashboard, click on the CSM Legal tab along the top menu. 
This will activate the CSM Legal module where you can create new agreement submissions or refer to existing ones.
Responses
How to prepare for a submission.
Approvals
Questions about the approval process.
Throughout the review process, the current status (state) will change depending on where your agreement is in the workflow.
The researcher user guide will have a high level summary of each state.
You can use the "Contact Owner" button at any time.
This feature is located in the sidebar of your agreement workspace within IRISS.
Note - once you have submitted your agreement, the owner assigned will be visible under the agreement status (yellow status box). 
References
User guide: download a reference guide - coming soon
CSM Legal: visit the CSM Legal website
IRISS Help: for support with the module in IRISS contact the IRISS Help Desk