Integrated AHS Application For IRISS Users
As of April 01, 2023, the AHS Resource & Facilities Request SmartForm is now available through IRISS, replacing the previous AHS Online Questionnaire Sharepoint form.
AHS and UCalgary have collaborated to simplify and streamline the approvals process for researchers requesting AHS resources.
The application is built on SmartForm logic and pulls information directly from your ethics application to guide study-specific questions.
The integrated AHS operational application allows:
Visibility into the current state of your application
The ability to save, edit, and continue the application at any point
Automatic data sync with REB and AHS records so information is always current
Communication directly with the AHS team through IRISS
Automatic inclusion of project information and documentation directly in the request
The exchange relevant data between AHS and IRISS systems over the life of a project
The new AHS Resources & Facilities request form is currently available to all IRISS users outside of the Edmonton Zone, and the current AHS Online Questionnaire Sharepoint form is now decommissioned.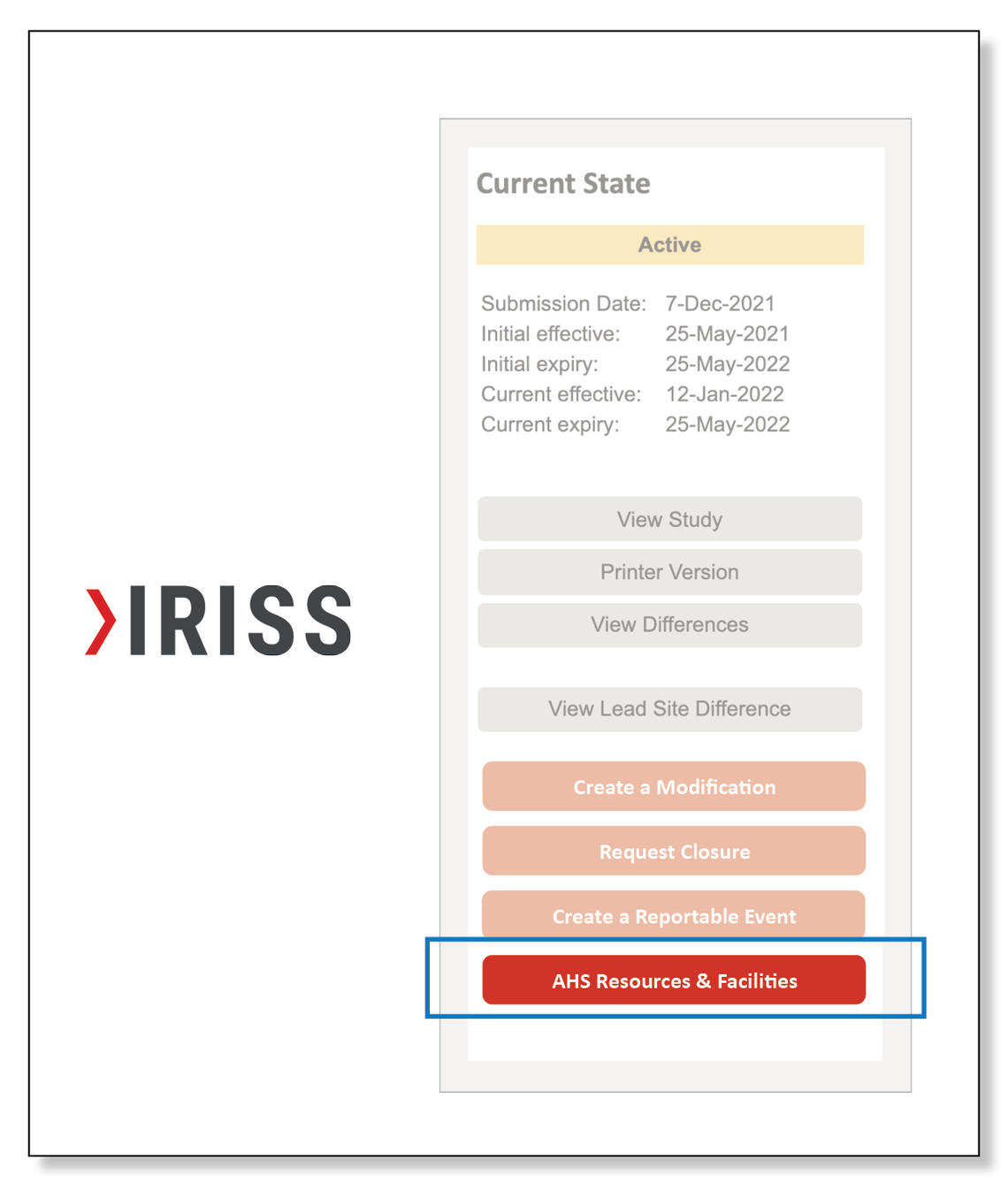 How do I use the AHS request in IRISS?
Automations and streamlined processes – all in one-place.
INITIATE
The AHS Resources and Facilities button is found in the sidebar of your IRISS dashboard. It appears when you indicate that you require access to AHS services or facilities in your ethics application. To access, you must be listed on the ethics application.
FILL OUT
After completing the first section, the application is assigned an ID number and can then be saved, closed, and continued at a later date. You can access your submission again using the AHS resources and facilities tab in your study workspace.
SUBMIT
Once complete, teams will receive email notification prompting to submit the application directly through IRISS using the submit to AHS button. Eligibility to submit is dependent on the type of study.
TRACK
The review state of an application will always be current and visible in your AHS Resources workspace. All communication and notifications will appear in IRISS for reference and archiving.
Guides
User Guide: PDF
 Simple instructions for accessing and using the module.
Reference Guide: Editable Word Doc
Includes all the questions from the AHS SmartForm application so your team can be better prepared when you are ready to apply. This guide is available as a word doc with editable space to take notes specific to your department or team for future applications.
Introduction: Navigating the AHS application module in IRISS.
This video demonstrates how to initiate the module and locate key functions within the IRISS platform.
Search: Using the Advanced Search Feature in IRISS
Tips on how to get better search results when filling out your AHS application.