University of Calgary Researchers
University of Calgary researchers log in using your UCID and IT username.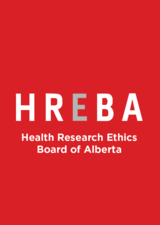 HREBA - All Other Researchers
All other researchers without a UCID can log in using HREBA registration.
Register for IRISS Access
University of Calgary Users
If you have an active staff or student UCID, IT Username, and Password:
If you DO NOT have an active UCID, complete the following steps:
       Then:
Once approved, you can log-in to IRISS through the main log-in portal above.
Email the help desk to deactivate your IRISS account. 
HREBA - Health Research Ethics Board of Alberta Users
Visit: HREBA registration page
Clinical Trials Committee (HREBA-CTC) 
Cancer Committee (HREBA-CC)
Community Health Committee (HREBA-CHC)
External view access for Covenant Health (CH) or Alberta Health Services (AHS)
UService
403-210-9300 or 1-855-222-2345
Walk-in Support:  
Main Campus: Math Sciences 773 (7th Floor)   
Foothills Campus: HSC-G204 
Hours: 8:30am to 12:00pm - 1:00pm to 4:30pm M-F
Please provide the following information:
Ethics ID # or ACC Protocol ID # (if initiated or active)
Name of Principal Investigator
Description of the support request
Please ensure you are logged out the system during these times
as work that has not been saved will be lost.
Regular System Maintenance:
Sunday, (weekly): 12:00 - 2:00 AM