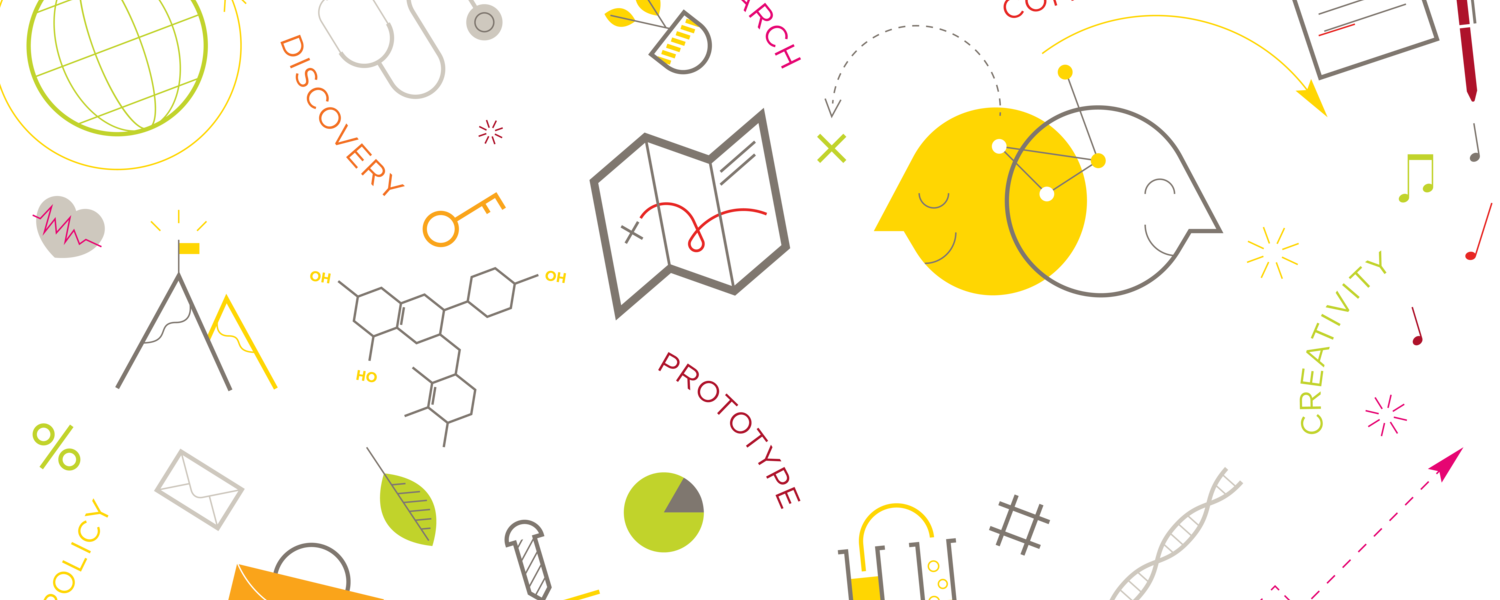 Ecosystem
The innovation path is often not linear but is diverse in style and mode. Whether someone is already an active innovator or at the beginning of the process, the support ecosystem at UCalgary helps remove barriers, simplify processes and facilitate the journey. 
Innovation@UCalgary is the ecosystem that supports innovation activities at UCalgary, bridging the transition from discovery through to delivering solutions for society. We work with our on-campus community, the Calgary community, government, industry and other institutions to accelerate this process for the benefit of humankind. Solutions can take many forms, including via businesses, knowledge engagement networks, non-profit models, among others. 

A community hub for activities that will support entrepreneurial student experiences, enable faculty to lead in innovation and expand a growing community of entrepreneurial and innovative thinkers. 
Created with a transformational gift from the Hunter Family Foundation in 2017, the Hunter Hub for Entrepreneurial Thinking is UCalgary's community innovation hub that transforms lives and economies through fostering entrepreneurial thinking in students, faculty and the community. Their mission is to create and support game-changing innovators and accelerate their ideas from conception to impact on society.
Support within the disciplinary domains
Innovation often occurs where individual research groups and interests of students, faculty and/or staff connect. Some faculties have established comprehensive supporting platforms for this process, including, for example, W21C Research and Innovation Centre and the Integrated Management Platform to Accelerate Clinical Trials (IMPACT). Several faculties have exemplary design courses, innovation support systems, innovation competitions and mentoring programs. Entrepreneurship support is available through the Haskayne School of Business. Guidance at this stage is best sought from the closest Associate Dean (Research). The Faculty of Science has a dedicated Associate Dean (Innovation). Some large research programs such as CFREF also offer Innovation Fellowships.
Support with commercialization and solution delivery
Innovate Calgary is UCalgary's knowledge transfer and business incubator centre, helping deliver 2,200+ invention disclosures over the past three decades, which have yielded 901 patents, 549 revenue-bearing agreements and 92 UCalgary-generated start-up companies. In the past year alone, UCalgary has seen a 75% increase in the number of startup companies created. Innovate Calgary provides support in the areas of talent development, intellectual property management, licensing, company formation, technology/innovation marketing, supporting research partnerships and accelerator programs. Many of the venture teams passing through the Innovate Calgary programs will further develop their businesses and projects in the University Innovation Quarter. Innovate Calgary also actively supports social innovation.
Dedicated space to interact and work on innovation
Located adjacent to UCalgary, the University Innovation Quarter (UIQ) is a newly revitalized innovation and research cluster that will help drive innovation in the Calgary region by providing space for companies and start-ups to interact and work alongside UCalgary students and researchers. UIQ will provide the necessary resources to incubate innovation, cultivate talent and apply academic learnings to create beneficial solutions for our community. It houses the newly opened Life Sciences Innovation Hub (a physical space and support system for companies, ideas, and research across all lifecycle stages) and will soon advance development of new hubs for science, engineering, energy and social innovation. Projects or companies emerging from the Innovation@UCalgary ecosystem flow naturally to this or an accelerator, such as the Creative Destruction Lab Rockies.
For acceleration/mentoring of science and technology-based companies
Creative Destruction Lab - Rockies (CDL-Rockies), housed at UCalgary's Haskayne School of Business, is an objectives-based mentorship program that accelerates the commercialization of early-stage science and technology-based ventures. CDL-Rockies offers ventures a unique experience, connecting them with expertise from a global network of subject matter experts, experienced entrepreneurs, industry partners and investors.