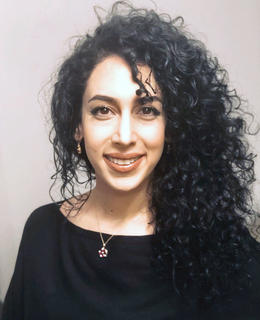 Golsa Kafili
Positions
Project Manager
One Health at UCalgary and AMR, One Health Consortium
Background
Credentials
Master's of Arts, St. Mary's University, Halifax, Canada,
Biography
Golsa Kafili received her Master of Arts in 'Women and Gender Studies' from St. Mary's University in Halifax in 2013. After her graduation, she moved to Saskatchewan and started working in a non-for profit organization as a Program Coordinator with a wide range of community members such as immigrants, refugees, Indigenous Peoples, academic leaders and administrators, business owners, and many more in Saskatoon. Four years of cross-cultural experience made her familiar with the importance of stakeholder engagement and strategic partnerships in the development of our community. As such, she chose to follow her path in delivering quality services to the Saskatoon community via the Edwards Executive Education, University of Saskatchewan, and coordinating professional development trainings in different fields of Leadership, Communications, Management, and Women's Initiatives.
In 2019, Golsa joined University of Calgary, One Health at UCalgary, and AMR - One Health Consortium teams as the the Event and Training Specialist. In this role, She is responsible for designing and developing crash courses, training, workshops, and events for domestic and international participants in the area of Antimicrobial Resistance (AMR) and One Health. So far, she has been coordinating the One Health Summer Institute programs, AMR: A One Health Approach Virtual Seminar Series, AMR for lunch series, AMR - One Health Consortium Annual Retreats, AMR Graduate Online Course, and many other events and programs.
Golsa is passionate about interculturalism, and advocates for diversity, inclusion, and empowering women leaders.