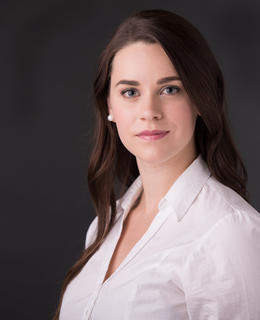 Positions
Manager
One Health at UCalgary and AMR, One Health Consortium
Background
Credentials
Credentialed Evaluator, Canadian Evaluation Society, 2018
Educational Background
MSc Epidemiology, Western University, 2014
BA Health Studies (Policy & Evaluation), University of British Columbia, 2011
Biography
Samantha Larose received her Master of Science in Epidemiology and Biostatistics with a focus on health services research from The University of Western Ontario in 2014. She then returned home to Calgary and worked for Alberta Health Services as a Quality & Evaluation Specialist advising various programs under the Senior's Health portfolio. Following this, she jumped into the world of strategic consulting which led her to work with health systems and service organizations from across Alberta and internationally. In 2018 she obtained her Credentialed Evaluator (CE) designation, recognizing her for having the education, experience and project management skills required to be a competent program evaluator. Prior to starting her role with the AMR – One Health Consortium, she provided strategic support to a pediatric hospital in Siem Reap, Cambodia
Samantha's career has led her to work with a variety of stakeholders – from academic leaders and researchers to frontline healthcare workers and patients in local and international settings. She enjoys working with cross-disciplinary teams to tackle complex problems or look for ways to improve existing programs. In her spare time, Samantha can be found at the swimming pool, exploring the mountains, or travelling.
Projects
AMR - One Health Consortium
The Antimicrobial Resistance (AMR) – One Health Consortium is a pan-Alberta collaborative platform focused on antimicrobial use and resistance research, policy, training, outreach, and commercialization. The AMR – One Health Consortium uses a transdisciplinary, multisectoral One Health approach, to promote self-sustaining clinical, epidemiologic, basic and social sciences, and translational research on AMR in Alberta that will be scalable to all of Canada.