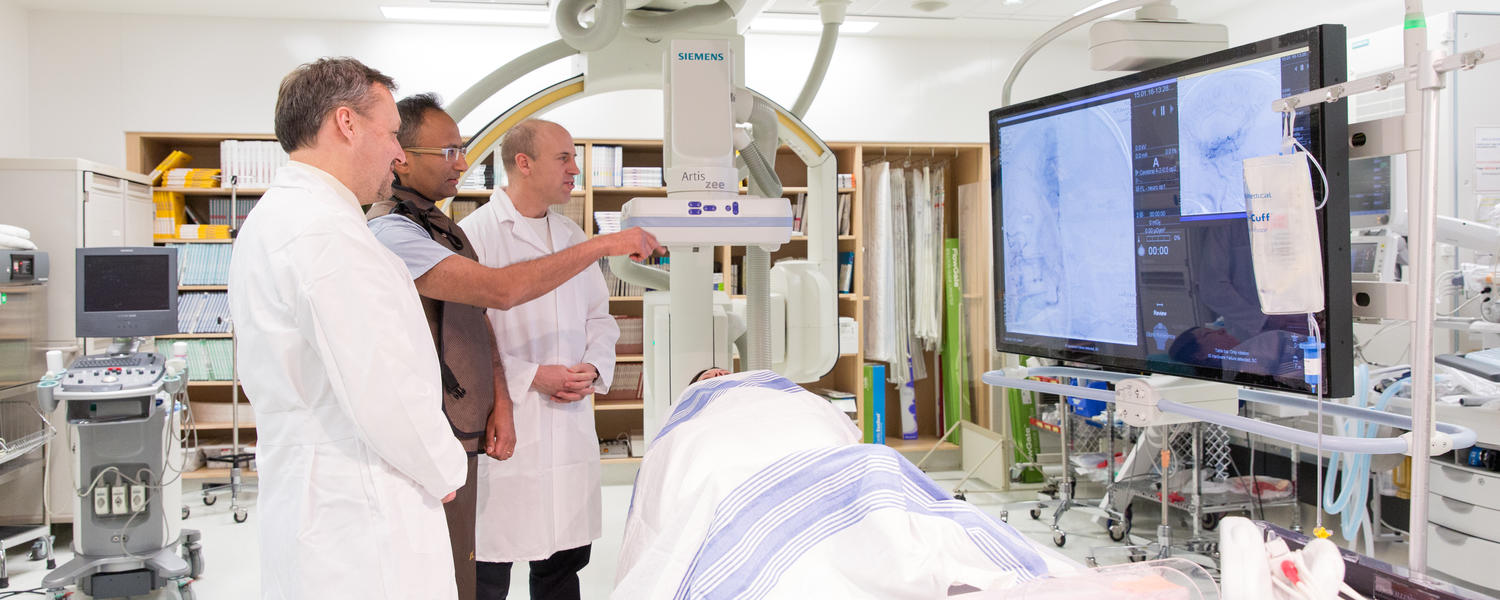 Brain and Mental Health
A global health challenge
Brain disorders are an increasing public health concern, surpassing both cardiovascular disease and cancer with respect to global burden of disease. These disorders have familiar names, including depression, multiple sclerosis, stroke, Alzheimer's disease and many more. They have a devastating impact, not only to those afflicted, but also on families, the community and the health care system.
Launched in May 2015, the Brain and Mental Health research strategy provides a unifying direction for brain and mental health research at the University of Calgary. This exciting strategy, led by the Hotchkiss Brain Institute, positions University of Calgary researchers to unlock new discoveries and treatments for brain health in our community by working in interdisciplinary teams.
One in three Canadians will be affected by a brain or nervous system disorder or injury in their lifetimes. Some of these conditions occur early in life—for example, 75 per cent of major mental illnesses such as depression and addiction begin before the age of 25. Others, however, are diseases of aging—one in four Canadians will have a stroke in their lifetime with the risk increasing with age and age-related dementia remains a major unresolved health challenge that threatens to overwhelm our health care system. This is of concern since recent census data indicate that the Canadian population is aging.
Solutions to these complex issues require both engagement and intellectual exchange across the breadth of expertise in all faculties across the university. The University of Calgary has created a rich environment for research in child education and development, brain and mental health. We have developed strong partnerships with the external community to translate and integrate the knowledge we generate into meaningful outcomes for society.
Leadership
The Brain and Mental Health research strategy is led by the Hotchkiss Brain Institute (HBI), an internationally recognized centre of excellence in brain and mental health research and education, operating within the Cumming School of Medicine and fully engaged with the city of Calgary. At the HBI, 750 scientists, clinician-scientists, trainees, research and professional staff work together to achieve the Institute's mission to inspire discovery and apply knowledge towards innovative solutions for neurological and mental health disorders. 
Capacity
More than 200 researchers from across the University of Calgary are engaged in brain and mental health research. This includes investigators from the Faculties of Arts, Kinesiology, Nursing, Science, Social Work, and Veterinary Medicine; the Cumming School of Medicine; the Schulich School of Engineering; the Werklund School of Education and others.
The confederation of scholars includes more than 30 endowed chairs and professorships—prominent research positions established to elevate critical areas of brain research via support from the philanthropic community and external organizations. 
More than 300 trainees including undergraduate students, graduate students and postdoctoral fellows also contribute to brain and mental health research at the university in significant ways.
Partners
Partners who contribute essential resources to the implementation of the Brain and Mental Health research strategy include: