What is the Research Support Fund?
The Research Support Fund assists Canadian postsecondary institutions and their affiliated research hospitals and institutes with the expenses associated with managing the research funded by Tri-Council agencies (CIHR, NSERC, and SSHRC). The annual grant helps institutions manage the financial demands of the indirect costs of research. By easing the institutional financial burden, the Research Support Fund helps the university create an environment where researchers can focus on their research, collaborate with colleagues, and translate their discoveries and innovations.
What are the indirect costs of research?
In order for research projects to step off the pages of the funding application and come alive in an active, collaborative environment, there is a host of everyday, practical requirements that must be addressed and in place. These requirements, that may not be directly obvious, have associated costs; these are the indirect costs of research. Some of the specific costs include those behind-the-scenes expenses incurred by the university supporting the day-to-day research enterprise. Without heat, electricity, computer and network maintenance or administrative staff, research projects would be near impossible to complete. Costs incurred to keep the lights on, maintain database servers, or the wear-and-tear maintenance for lab space all contribute to the indirect cost of research.
Contact:
Office of the VP Research research@ucalgary.ca 
Government of Canada Research Support Fund

 
In 2003, the Government of Canada introduced the Indirect Costs Program to help post-secondary institutions offset the less obvious costs of research. The Indirect Costs Program will be completed after the 2014-2015 fiscal year. For future years, the program will be replaced by the Research Support Fund.
In May 2016, The U15 Executive Heads agreed to the following statement on the indirect costs of research. Read more.
Calculation of the Research Support Fund Grant
The University of Calgary's Research Support Fund allocation is calculated based on Tri-Council (CIHR, NSERC, and SSHRC) funding awarded in the three previous fiscal years.
In 2023-24 UCalgary received a $14.9 M grant (excluding the Incremental Project Grant) dedicated to five expenditure categories: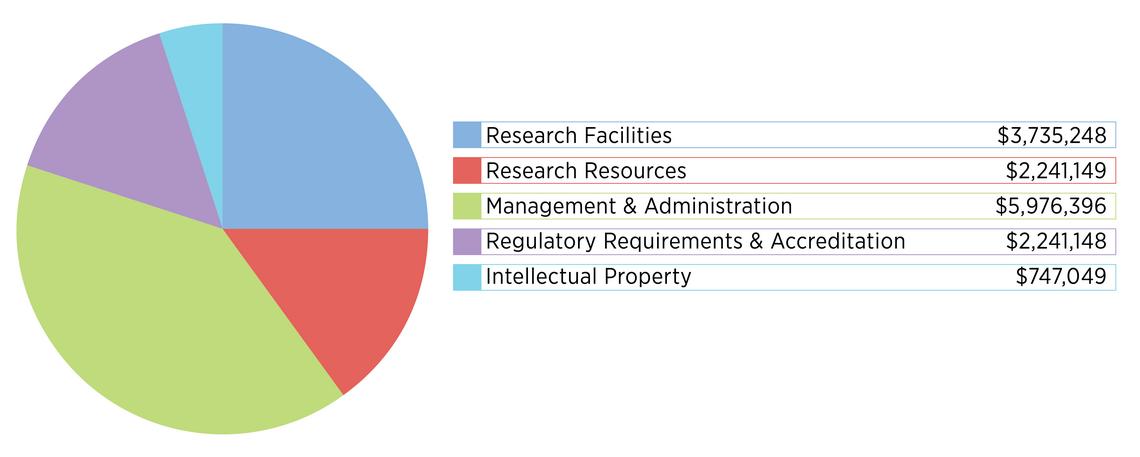 Alberta Health Services (AHS)

Alberta Children's Hospital
Alberta Children's Hospital Research Centre
Alberta Precision Laboratories (formerly Calgary Lab Services)
Foothills Hospital
Peter Lougheed Centre
Rockyview General Hospital
South Health Campus
Tom Baker Cancer Centre

Alberta Bone and Joint Health Institute
Alberta Civil Liberties Research Centre
Alberta Sulphur Research Limited (ASRL)
Bamfield Marine Sciences Centre
Canadian Institute of Resources Law (CIRL)
Canadian Research Institute for Law and the Family
Carbon Management Canada Inc. (formerly Carbon Management Canada Research Institutes Inc.)
Platform Calgary (formerly Calgary Technologies Inc.)
PolicyWise
The Arctic Institute of North America (AINA) 
The Van Horne Institute
TRIUMF
University Technologies Inc.
Vecova Centre for Disability Services and Research